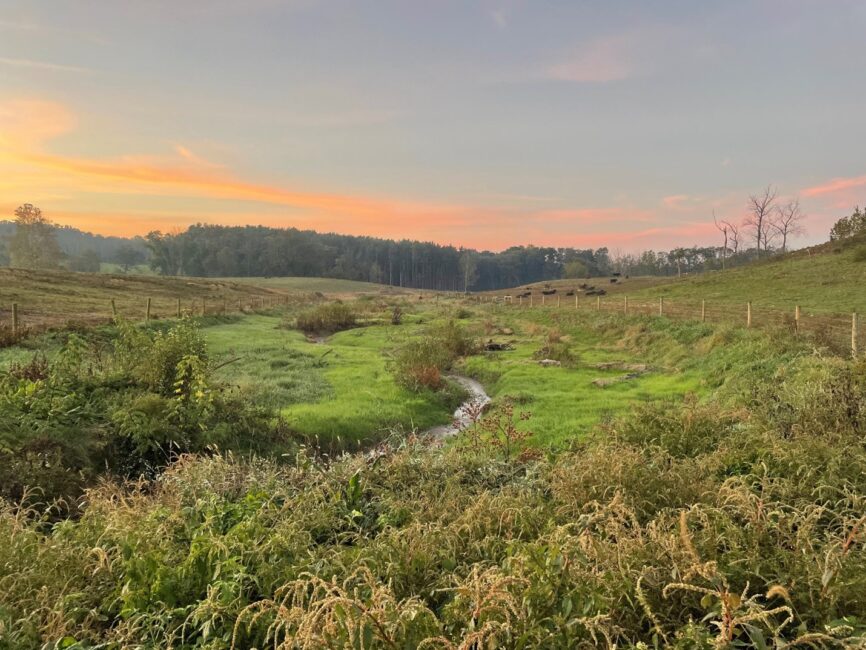 Ecotone and the Baltimore County Soil Conservation District (BCSCD) have had a Memorandum of Agreement since 2010, the result of which has been 28,000 linear feet of stream restoration, 16 acres of wetland restoration, 52 acres of reforestation, 24,000 linear feet of livestock exclusion fencing, and 11 stabilized panel stream crossings. Through funding by the Maryland Department of Natural Resources' Atlantic and Coastal Bays Trust Fund, installation of Best Management Practices (BMPs) on Roseda Farm in Baltimore County added an additional 4,829 linear feet of stream restoration and 9.14 acres riparian buffer to that tally, one of our largest projects of 2021. The Maryland Department of Agriculture created a fantastic video about this project and the partnerships that made it so successful. Please take a few minutes to watch it (below).
Not only was the BMP work of a large scale, Roseda farm is Maryland's largest beef producer, which meant that we needed to complete our work without disrupting the daily operations of the farm. After working with the farmers to learn the pattern of their daily operations, we phased the project by stream segment, completing stream and riparian buffer installation, stabilized panel crossing and exclusion fencing in one segment before moving to the next to allow the work of Roseda farm to continue while we were on-site. Exclusion fencing keeps cattle from trampling stream beds and depositing manure in the stream itself, but means that the cattle need to be provided an alternative water source. Ecotone installed four gravity fed watering troughs to keep the cattle watered in each pasture, and this work was funded by both the Maryland Agricultural Water Quality Cost Share and the Natural Resources Conservation Service Environmental Quqlity Incentives Program grants. In the end, the strong relationships between Ecotone and BCSCD and between BCSCD and Roseda Farm, (BCSCD's Cooperator of the Year in 1999) resulted in a smooth transition in daily operations with minimal disruptions.
Ecotone shared the good news of this project through a presentation to the Center for Watershed Protection's Agriculture Symposium, presented by Project Manager Chris Kidd and Special Projects Manager Jess Single in October of 2021, which you can view here, as well as a bird's eye view of the project here. The National Association of Soil Conservation Districts also featured the project in their Diamonds Out of the Dust: 75 Years of Conservation District Success Stories. Partnerships like these are essential to our work and we look forward to many more years of uplifting local ecosystems and helping Maryland agriculture thrive in a sustainable way.